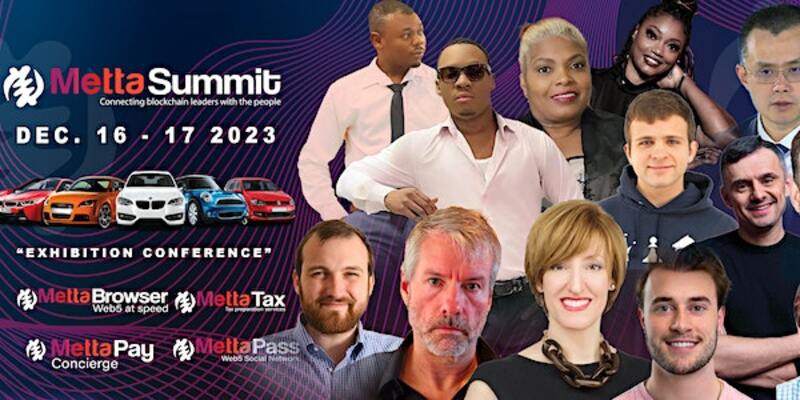 Metta Protocol Blockchain & Tech Summit
2 DAYS EXHIBITIONS CONFERENCE - LOTS OF COMPANIES - GREAT SPEAKERS FROM THE ENTIRE WORLD
Get ready to experience the biggest and most revolutionary blockchain, Technology, Science event of the year! The Metta Protocol Summit is happening on December 16th-17th, 2023, from 10AM to 8PM, and you don't want to miss out on this one-of-a-kind opportunity.
Join us as we dive deep into the world of blockchain, cryptocurrency, Artificial Intelligence, Advanced technology, science, real estate developments and more. This is the perfect chance to learn from the biggest names in the industry and expand your knowledge like never before.
Our impressive lineup of speakers includes high status people from Google, Microsoft, Crypto.com, Solana, Cardano, Ethereum, Everrise, Circle, Binance, Gala, Uber, Air BNB and many other world-renowned blockchain giants and companies developing big techs will be sharing their insights and expertise with attendees. You'll have the opportunity to hear from industry leaders, attend informative workshops, and participate in engaging panel discussions.
Don't miss out on the chance to network with like-minded individuals who share your passion for blockchain and cryptocurrency. At the Metta Protocol Summit, you'll be surrounded by individuals who are just as excited as you are to be part of the blockchain revolution.
EXHIBITIONS-EXHIBITIONS-EXHIBITIONS-EXHIBITIONS-EXHIBITIONS-EXHIBITIONS-EXHIBITIONS
And the best part? For a limited time, when you purchase two tickets, you'll receive a third one for free! This is an incredible offer that you won't want to miss. So gather your friends and colleagues and get ready for an unforgettable experience at the Metta Protocol Summit
*NO REFUND - NO REFUND - NOREFUND... PRICE UPDATES DAILY
---
Want to find a web3 job?
---