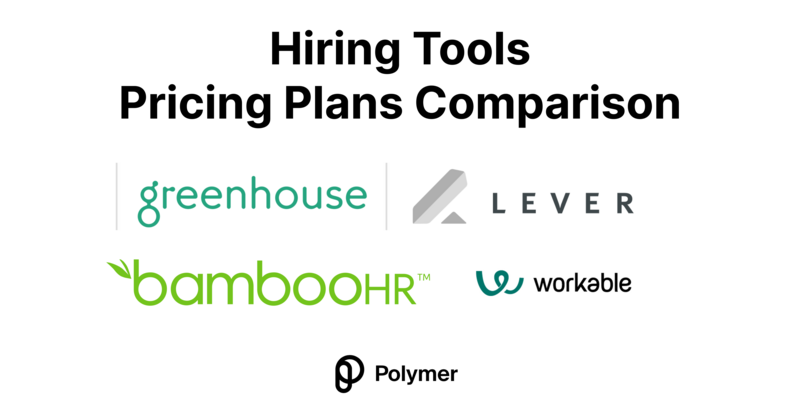 Lever vs Greenhouse vs BambooHR vs Workable Pricing Plans Comparison 2023
Let's compare pricing plans of Greenhouse, Lever, Workable, BambooHR, Polymer and Greenhouse. These are the most popular hiring tools ATS (Applicant Tracking System).
Greenhouse Pricing Plans
Greenhouse's pricing is tiered based on the number of employees, ranging from $6,500 per year for 1-10 employees to $24,500 and up per year for companies with over 1000 employees​.
Lever Pricing Plans
Lever's pricing varies based on company size, starting at $3,500 per year for companies with less than two dozen employees, and can go up to $140,000 per year for large multinational corporations
Workable Pricing Plans
Workable pricing tiers are as follows
Starter: $149 per month, designed for occasional hiring with up to 2 active jobs.
Standard: $299 per month or $3,588 per year, for consistent hiring with unlimited active jobs.
Premier: $599 per month or $7,188 per year (billed annually), designed for strategic hiring with unlimited active jobs​1​.
Polymer Pricing Plans
Polymer's pricing is tiered with three plans:
Starter: $10 per editor per month (billed yearly) or $20 per editor per month (billed monthly)
Pro: $40 per editor per month (billed monthly)
Enterprise: Starting at $500 per month
BambooHR Pricing Plans
BambooHR offers two pricing editions, starting at $5.25 to $8.75 per month. The higher-priced plan includes features such as applicant tracking, electronic signatures, advanced custom reports, training tracking, custom alerts, and more, while the lower-priced plan provides a set of essential features​1​.
Homerun Pricing Plans
Homerun's pricing is based on the number of job openings, with specific monthly rates available on their pricing page. For more than 60 job openings, they offer custom pricing. The rates can be lower if paid yearly​1​.
Summary
Greenhouse: $6,500 to $24,500+ per year based on employee count​2​.
Lever: $3,500 to $140,000 per year based on company size​3​.
Polymer: $10 to $40 per editor per month, or starting at $500 per month for enterprise plans​4​.
BambooHR: $5.25 to $8.75 per month​1​.
Workable: $149 to $599 per month, with annual options for Standard and Premier plans
Homerun: Tiered based on job openings, with custom pricing for 60+ openings​.
Each system offers varying features and price points suitable for different organizational needs.
---
Want to find a web3 job?
---