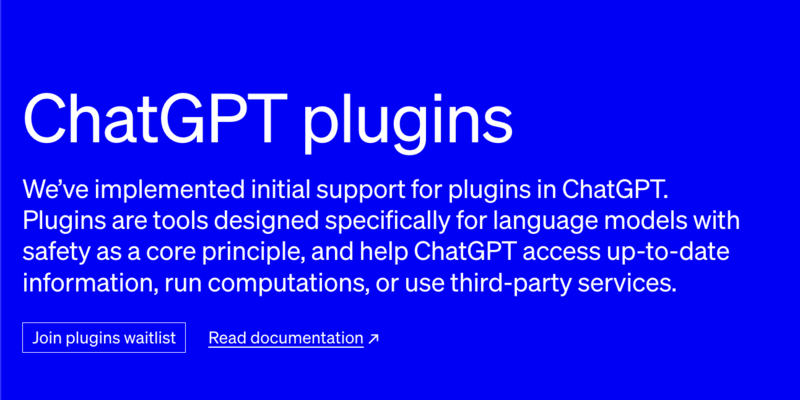 OpenAI Just Launched ChatGPT Plugins. How to get Access
ChatGPT just launched plugins! Now any developer can create their own plugin and be searchable in ChatGPT plugin marketplace.

These are specialized tools that enable ChatGPT to access up-to-date information, perform computations, and use third-party services.

In a phased approach, with a focus on studying their real-world impact and ensuring safety and alignment with the platform's mission.

Initially, access to plugins will be limited to a small group of users, with larger-scale access to follow as more is learned.

Developers on the waitlist can create plugins using provided documentation, and the first plugins have been created by companies such as Expedia, FiscalNote, Instacart, KAYAK, Klarna Shopping, Milo Family AI, OpenTable, Shop, Speak, Wolfram amd Zapier.



How to get an access to ChatGPT plugins?
You need to join the ChatGPT Plugins waitlist.


Go to this link: https://openai.com/waitlist/plugins
Fill-up the form with these questions:

First name
Last name
Email
Country of residence
Would you be willing to provide feedback about your plugin experience?
What types of use cases or new plugins do you want to see built?.
How do you want to use plugins?

I want to try plugins in ChatGPT
I am a developer and want to build a plugin

What do you want to build a plugin for? Examples:

Summary of the best Hacker News post of the day
Summary of the latest world news
Summary of the latest tech news

Company name
Company size
Twitter profile URL
GitHub profile URL
Join the waitlist


---
Want to find a web3 job?
---